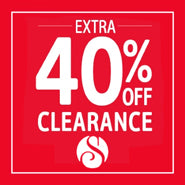 How to Tie a Scarf: The Shoulder Duster
Instructions:

This isn't your grandmother's scarf knot. Paired with a pair of chic flats and a striped top, this scarf style will have you looking like a 1950s movie star in no time!

Shop the Bonita Floral Triangle Scarf> Sold Out. Shop Similar Here

Step 1: With a triangle or square scarf folded in half, place the scarf at the back of your neck with the pointed side hanging down your back. Tie a loose knot at one side near your collarbone.

Step 2: Slip the other end of your scarf through the knot loop and tighten. Center it, and that's it!